Trouble Ticket | Help Desk System
Looking for a simple but effective Trouble Ticket or Help Desk System for your internal employees?
Or maybe you out-source or collaborate with outside firms that you needa Trouble Ticket system for. How about a place for your internal IT problems to be logged to be taken care of. Smooth Projects Project Hosting provides the Trouble Ticket solution incorporated into this great Project management system.
One look at the Trouble ticket overview page below and you can see how simple it is. The Trouble Ticket System prioritizes, keeps track of follow ups and how long ago the trouble ticket was logged.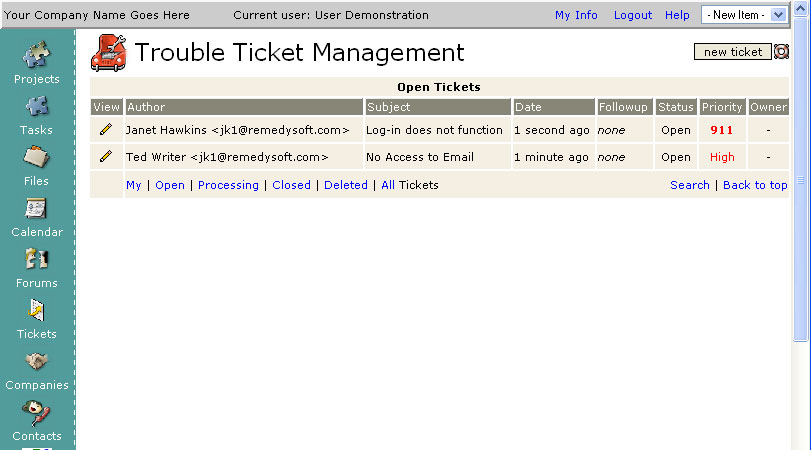 Trouble Tickets can be created by all users on the system that you have allowed to view this module in the program. The Smooth Projects hosted project management system allows for as many users as you like. Each of them can have individual permissions assigned to control the user of the entire system.
Creating a ticket is as simple as clicking on the "New Ticket" button. Then the screen below displays.
Managing the Trouble tickets is a simple task as well. Click on the "View" icon and the ticket opens for the admin to work with.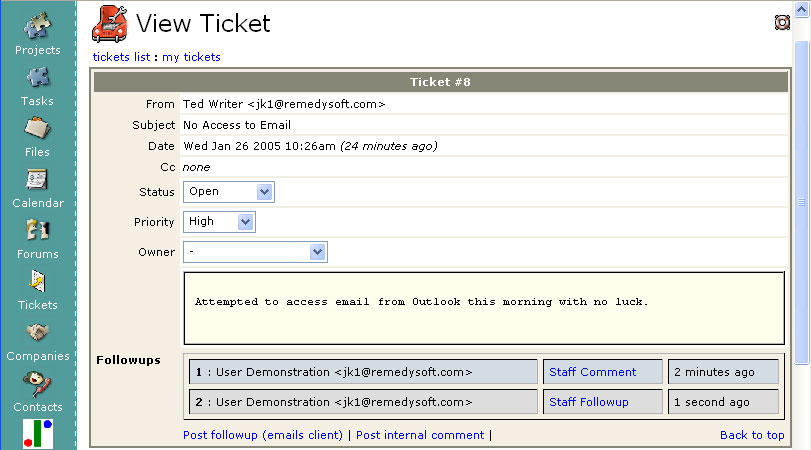 The Trouble Ticket / Help Desk system and all of these other Business solutions are integrated to allow you to do business in one place and manage more effectively. Installation is included in the setup as well as your own custom domain
Example: yourcompany.smoothprojects.com